Limited standing-room only tickets remain!
The Charlotte Checkers and Charlotte Knights will host an outdoor hockey game at Truist Field in uptown Charlotte. The Queen City Outdoor Classic, presented by Pepsi, will be played against the Rochester Americans and will take place on Saturday, Jan. 13, at 7 p.m.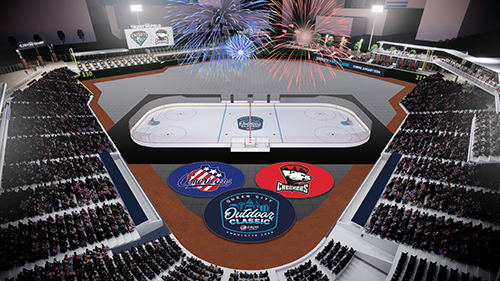 The event will mark the first time the Checkers have participated in an outdoor game as well as the first professional outdoor hockey game in the City of Charlotte. To date, there have been 11 outdoor games in American Hockey League history, including two at minor-league baseball stadiums (Rochester vs. Lake Erie at Rochester's Frontier Field in 2013 and Stockton vs. Bakersfield at Sacramento's Raley Field in 2015).
"We are thrilled that this partnership with the Knights has allowed us to bring an outdoor game to Charlotte," said Checkers Chief Operating Officer Tera Black. "Truist Field is the perfect venue for us to host this event, and our entire organization is looking forward to this historic occasion."
"We're very happy to bring the Queen City Outdoor Classic to Charlotte," said Checkers Owner/CEO Michael Kahn. "Every hockey team hopes to be part of an outdoor game at some point, and being able to host this historic event in Charlotte at a great venue like Truist Field is something we're very excited about."
"We're thrilled to be able to host the first-ever outdoor professional AHL hockey game in the Southeast with the Charlotte Checkers taking on the Rochester Americans," stated Dan Rajkowski, Charlotte Knights Chief Operating Officer. "This game will be a wonderful addition to our Light the Knights Festival this winter."
The Charlotte Knights are the Triple-A affiliate of the Chicago White Sox and play at Truist Field in Uptown Charlotte. Since opening in 2014, the ballpark has been one of the most visited venues in all of Minor League Baseball. The 2023 season is in full swing and tickets for all Knights games this season are available at www.CharlotteKnights.com, in person at Truist Field Ticket Office or by calling 704-274-8282. Knights Baseball – Experience The View. The Game. The Fun.