Greg Nemisz's 2014-15 season was plagued by a disheartening case of déjà vu. For the second year in a row, the forward's hot start was cut short by a season-ending injury.
"It's frustrating," said Nemisz. "I feel like the last three years have been a little bit of bad luck with fluky injuries. But that's just life. There's nothing I can do about that."
Carolina acquired Nemisz from the Calgary organization midway through the 2013-14 season. Upon arriving in Charlotte, the 24-year-old found his groove, pumping in 11 points (3g, 8a) in 14 games with the club before an injury forced them to shut him down. That put the organization in a tough spot in terms of whether or not to re-sign a player that they only caught a short glimpse of. But what they saw in that short glimpse sold them, and Nemisz was brought on for another year.
Fast forward to the start of this season and Nemisz continued his tear with 14 points (8g, 4a) in 21 games and established himself as one of the team's most lethal weapons. But, once again, the injury bug struck and put an end to Nemisz's season in early December. It would be easy for a player to get down on their luck with such a terrible string of misfortune in the health department, but Nemisz employs an encouraging view on his situation.
"I just need to stay healthy," said Nemisz. "It's nothing you can really control. You just have to tweak your mind and stay positive and keep plugging through because hockey careers are a long journey and you never know what's going to happen. But if you stay with the right mindset, you're going to have a chance."
What makes this season's injury an even tougher pill to swallow is the fact that Nemisz was enjoying a career stretch and was poised to be the offensive leader for a Checkers team that desperately needed help in the goal-scoring department.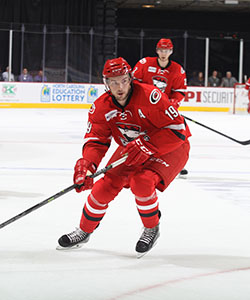 "As a coach I was looking for him in any situation, whether it was power play or whatever," said Jeff Daniels, whom the Hurricanes recently announced would not be returning to coach Charlotte next season. "He's a guy that can play all positions. He got the injury again and we had to shut him down, and that's unfortunate because he was definitely a guy that we were going to lean on a lot this year."
"Nemo's injury really hurt us," said goalie Drew MacIntyre. "That guy was playing amazing and, at the time, was our best player. I just told him that if he had stayed healthy, our games near the end would have been a lot more meaningful. He's a heck of an all-around player."
The Flames selected Nemisz, who starred for the Windsor Spitfires alongside Checkers teammate Justin Shugg, 25th overall in the 2008 draft, and he spent three and a half seasons with the AHL's Abbotsford Heat. After turning in solid 33 and 29 point campaigns in his rookie and sophomore years, Nemisz fell off offensively, struggling to find the net with just 19 points in his third and fourth seasons with the Heat. The move to Charlotte seemed to breathe new life into the center, who immediately showed flashes of what made him a highly-touted prospect.
"You look back to last year when he came over, right away you could tell that a fresh start was good for him," said Daniels. "He was scoring goals and was just back to having fun playing the game again. I know he was excited going into this season, and at the start of the season you could see what he's capable of doing."
Nemisz also took a big step this season in terms of leadership. Despite coming into the year with just 14 games in a Checkers sweater, he was named an alternate captain by Daniels and emerged as a leader on what shaped up to be a very young team. His tenure of wearing a letter obviously came to an early end, but his impact and influence as a leader did not stop there.
"He was wearing an A for a reason, and even when he was hurt for the last part of the season he'd still be up in the weight room, was very detailed in his rehab and wasn't taking any shortcuts," said Daniels. "There's an example guys can watch. When you are out, do you shut it down and kind of sit around all day, or do you go up in the weight room and work to get back? That's what he was doing."
Now, the organization will face the same dilemma as last offseason: do you bring back a player that you have only seen in 35 games over the last two seasons, although he was lights out when he was healthy? It's a complex decision to make, and that fact is not lost on Nemisz.
"I completely understand it," said Nemisz. "It's not an easy decision for them at all. I'm a tough guy to make a decision on, but that's the way it is and they were honest about that."
While he will have to wait to see how Carolina chooses to proceed, Nemisz has a cautious optimism about the relationship he has harbored.
"They're an honest group in there and they don't know exactly what's going to happen until both teams sit down and talk about it," said Nemisz. "They're honest, but I have a good feeling about the rapport I have with the organization. But you never know what's going to happen until it actually happens."
Until then, Nemisz will spend his summer working his way back to 100 percent and building on his game to keep those offensive strides going. Wherever he ends up, Nemisz proclaims that he will be ready for training camp.
"Last summer with the surgery was tougher to train for sure," said Nemisz. "I've got to work on my foot speed and just my overall general speed. This summer will be way easier. I'm about two weeks away from getting on the ice, so I'm going to have five or six months to get myself prepared. I'm really excited to do that."