John Muse
is on the verge of playing for the Checkers for the third consecutive season, though that tenure hasn't always been as stable as it might sound.
In 2011-12, the then-rookie netminder signed an AHL contract with the club and enjoyed an extremely successful run of games in the middle of the season, paving the way for him to earn an NHL deal with Carolina for the following campaign. That season did not go the way he had hoped, causing
the Hurricanes to walk away from his right as a restricted free agent
, at which time he signed an ECHL agreement with Fort Wayne.
As seen time and time again at this level, things have a funny way of working out. Now that
Justin Peters
is in Carolina, Muse is back with the Checkers on a professional tryout deal, completing the trifecta of valid contract varieties that AHL players can possess.
"It is what it is," said Muse, who joined the team in Charlotte for Thursday's practice, just in time to head back to the Midwest for the upcoming road trip. "I'm just happy to get an opportunity to get in a couple of games and help the guys win."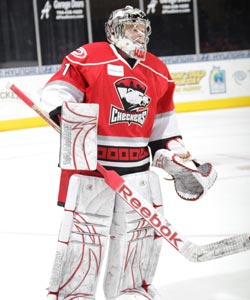 Unlike several goalies brought in to back up on an emergency basis, Muse, as he alluded to, knows he'll be playing. That fact, necessitated by the team's upcoming schedule that includes six road games in nine days, is part of why coach Jeff Daniels turned to him instead of the less-experienced
Jesse Deckert
.
"He's got experience in this league and has played well for us in the past," said Daniels of Muse, who went 10-3-2 with a 1.81 goals-against average and .941 save percentage with Charlotte two seasons ago. "There were options, but he was the best fit for us."
"It's definitely easy coming to a place with guys I know from before, and the guys I've met today have been very welcoming," said Muse, who attended training camp with the Providence Bruins and started Fort Wayne's only game of the season on Oct. 19. "That's the good thing about this group, is that they're always welcoming no matter who it is coming in."
The Checkers kick off their longest road trip in four AHL seasons with a three-in-three that will be played in Grand Rapids, Rockford and Chicago starting Friday. Muse, playing behind
Mike Murphy
, will likely get at least one of those games and perhaps another when the team wraps things up by playing three contests in four nights the following week.
Whenever Muse does get in, he feels he'll be a better goalie than he was last season, when he went 7-7-1 with a 3.22 goals-against average and .891 save percentage.
"It was difficult," said Muse, 25, of last season. "At times I wasn't playing well, and at other times I felt like I was playing well and things weren't going the way I wanted them to go. It's not always easy, but if it was, everyone would be playing.
"I took some time this summer to work on some things, and I think I'm in the best shape I've been. I worked a lot with my goalie coach and I think I've gotten better at a lot of the little things."
Until the NHL locked out its players and the Checkers brought in NHL veteran Dan Ellis last fall, Muse, on the strength of his rookie season, was set to be the Checkers' No. 1 goalie. Instead, he began the year by returning to ECHL Florida, where he stayed until the work stoppage ended in January.
"He admitted last year was a tough year for him," said Daniels. "Part of it was some disappointment with the lockout, because if it wasn't for that he would have been with us since day one. We had to kind of push him down, and I think he struggled with that, though his game was starting to come around towards the end."
Due to the by-definition-temporary nature of PTOs, Muse's latest tenure with the Checkers may not last longer than it takes the Hurricanes' Anton Khudobin to get healthy – a development that should, barring anything unforeseen happening between now and then, result in Peters' return to Charlotte. Given the potentially limited chance to impress not only the Checkers but any other teams that may come calling later in the season, that could make his upcoming starts important, which is historically when he's at his best.
His two NCAA national championships with Boston College, playoff MVP with Florida's 2012 Kelly Cup team and the start to his Checkers career, in which he stopped 92 of his first 93 shots, are all a testament to that.
"He's come in focused, and this could be a bounce-back year for him," said Daniels.