Dr. Jerry Barron – Lead Team Physician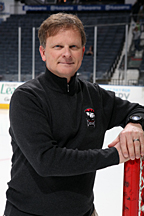 A native of Texas, Dr. Barron graduated from Baylor University and The University of Texas Medical Branch at Galveston. He completed a sports medicine fellowship at the Kerlan-Jobe Orthopedic Clinic in Los Angeles, where he assisted with orthopedic treatment for the Los Angeles Lakers, Dodgers, Kings, Rams and the Anaheim Angels.
Dr. Barron has been in private orthopedic practice since 1990. In addition to patient care, he has trained residents at Carolina Medical Center, as well as PA students from Wake Forest University and Duke University. During this time, he has also served as team physician for Davidson College, UNC Charlotte University, Winthrop University, the WNBA's Charlotte Sting and the Carolina Cobras of the Arena Football League. Dr. Barron has volunteered for local sporting events such as the Shrine Bowl, Ultraswim Grand Prix Swim Meet, AAU Junior Track and Field events, NCAA and ACC Basketball Tournaments, and the Charlotte Steeplechase. He serves on the Charlotte Basketball Committee, Charlotte Sportsman Club and Charlotte Sports Commission.
Currently, Dr. Barron is the team physician for the Charlotte Checkers, Queens University, Charlotte Original Rugby Club, Lancaster High School and Richmond County High Schools. In addition, he is the orthopedic consultant for Charlotte United Futbol Club, North Carolina Dance Theater, Mecklenburg Aquatic Club, and various NASCAR teams such as Hendricks Motorsports, Dale Earnhardt Incorporated, Michael Waltrip Racing, and Red Bull Racing. His current academic interests are cartilage repair and replacement, ACL injury prevention and reconstruction, and shoulder arthroplasty as well as arthroscopic reconstruction of the shoulder. His main focus is patient care.
Dr. Chad Robertson - Team Chiropractor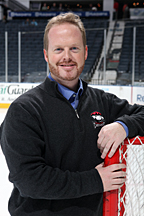 Chad Robertson, D.C., C.C.S.P., A.T.C. is the co-owner of Queen City Chiropractic & Sports Performance located in North Charlotte, NC and has been in active practice since 2005. Dr. Robertson has been a member of the Charlotte Checkers' medical staff since the 2008 season and he enjoys helping patients of all ages reach their optimal health potential and goals.
Dr. Robertson is originally from Greenwich, NY and graduated from Castleton University with a bachelor's of science degree in sports medicine and athletic training later becoming a Certified Athletic Trainer in 2001. From there Dr. Robertson furthered his studies at NY Chiropractic College where in 2005 he graduated with a Doctorate degree in Chiropractic. In 2012 Dr. Robertson became certified through Palmer College as a Certified Chiropractic Sports Physician specializing in sports injury treatment and rehabilitative care. Dr. Robertson lives in Huntersville, NC with his wife Ashley, also a chiropractic physician, and they both enjoy local sporting events and any outdoor activity.
Dr. Greg Bielec - Team Sports Therapist
Dr. Greg Bielec, D.P.T., O.C.S., A.T.C.-L., C.S.C.S., Director of Physical Therapy and Sports Medicine at Lakeside Sports Medicine in Huntersville and Mooresville N.C., has been the physical therapist for the Charlotte Checkers for five seasons.
Dr. Bielec received his bachelor's degree in exercise and sports science at the University of Florida in 1996, his master's in physical therapy at the University of North Florida in 2003 and his doctorate in physical therapy at the MGH Institute of Health Professions in 2005.
Dr. Kevin L. Smith – Team Plastic Surgeon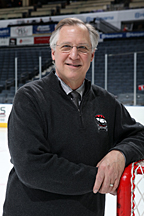 Kevin L. Smith, M.D., F.A.C.S., has practiced comprehensive plastic surgery in Charlotte for 23 years, including all aspects of aesthetic, maxillofacial and hand surgery. A graduate of Princeton University and George Washington University (MS), he received his medical degree from the Eastern Virginia Medical School in Norfolk, Virginia. He received his general surgery training at Jefferson University in Philadelphia and went on to complete a fellowship in hand surgery, also at Jefferson. Plastic Surgery training then followed in Norfolk, Virginia.
He is board certified in plastic surgery and is a member of the American Society of Plastic Surgery, the American Society of Aesthetic Plastic Surgery and is a Fellow of the American College of Surgeons. Dr. Smith began as an avid fan of the Checkers in the 1993-1994 season and was "drafted" to become part of the organization in the late 90's.
Dr. Jamie Davis - Team Emergency Doctor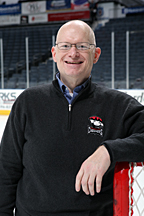 James Davis, M.D., F.A.C.E.P., F.A.A.E.M., is an emergency physician with Mid-Atlantic Emergency Medical Associates in Charlotte. Dr. Davis received his undergraduate degree from Duke University and completed medical school at Wake Forest University/Bowman Gray School of Medicine, where he also did his residency training in emergency medicine, finishing as chief resident. He has served as the medical director of Presbyterian Hospital in Charlotte and at New Hanover Regional Medical Center in Wilmington, N.C. He currently is on staff at all three Presbyterian Hospitals in the Charlotte area. He is active in medical missionary work in Sierra Leone, West Africa and Haiti in addition to his usual work in the emergency department and at the arena. Dr. Davis has been a hockey fan for many years, having grown up in Winston-Salem, and was a fan of the Checkers' bitter rival, the Winston-Salem Polar Twins. He also played for the championship Ice Devils club hockey team while at Duke as an undergrad, and to this day doesn't have fond feelings for any N.C. State or UNC hockey players.
Dr. Erin Schotthoefer - Team Eye Doctor
Dr. Erin Schotthoefer is an ophthalmologist who specializes in pediatric eye care and strabismus in the Charlotte, NC and Huntersville, NC areas.
She graduated from Harvard University and received her medical degree from Wayne State University School of Medicine. Her internship was at St. John's Hospital in Detroit, her residency was at the University of Iowa, and her fellowship was at Duke University.
She is board certified by the American Board of Ophthalmology. She is a member of the American Academy of Ophthalmology, the American Association for Pediatric Ophthalmology and Adult Strabismus, and Women in Ophthalmology.
Dr. Bobby Pappert - Team Dentist
Dr. Pappert is an avid Charlotte Checkers fan and has been playing hockey his entire life. He grew up in the Chicagoland area and has been a Checkers season ticket holder since 1993, when the team returned to Charlotte for the second time to be a part of the ECHL.
Dr. Pappert played lacrosse for Pepperdine University and received his undergraduate degree. He also attended the Medical University of South Carolina in Charleston, where he graduated as a dentist.
Dr. Pappert currently owns his own dental practice in southeast Charlotte, not far from where the Checkers compete. He has been a dentist for 32 years and an owner for 18 years. He is very comfortable with procedures from traumatic sports emergencies to the gentle care of routine complete family dentistry.
Dr. Karan Shukla - Team General Practitioner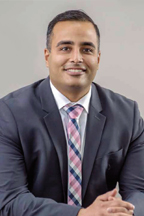 Karan Shukla, M.D., is Board Certified in Family Medicine with Certificate of Added Qualification in Primary Care Sports Medicine. He is a Family Physician with Novant Health Randolph Family Medicine in Charlotte. Dr. Shukla received his degree from Iberoamerican University in the Dominican Republic. He completed medical his residency training in family medicine at Jackson Park Hospital in Chicago's South Side before completing his Fellowship in Primary Care Sports Medicine at the University if South Florida. He has served as the team physician for several sports organizations and has been in the role of team physician for the Charlotte Independence, Charlotte Marathon and the Charlotte Checkers since 2016. He is active in promoting health education initiatives in developing countries in West Africa.
Dr. Shukla has become an avid Charlotte Checkers fan since joining. He provides primary care medical evaluation and treatment of athletes of all ages. His role with the Charlotte Checkers is to optimize and maintain the health of the players, coaches and staff.
Dr. Landry Jarvis - Team Physician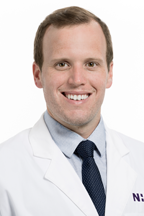 Douglas Landry Jarvis, MD is a dual fellowship-trained sports medicine and hip preservation orthopedic surgeon at Novant Health Orthopedics & Sports Medicine – Ballantyne. He specializes in arthroscopic surgery of the hip, shoulder and knee.
As a hip preservationist, his focuses are arthroscopic treatment of complex hip disorders, including labral tears, femoral-acetabular impingement, focal cartilage injuries, gluteal tendon tears and proximal hamstring tears. He is passionate about treating sports injuries of the knee and shoulder for both adolescents and adults, specializing in meniscus and labrum repair, ligament reconstruction, tendon repair and treatment of focal cartilage injuries.
His goal is to offer a superior level of fracture care, including management of traumatic orthopedic injuries.
Dr. Payton Fennell - Team Physician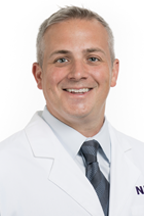 Dr. Payton Fennell is the primary care sports medicine director for the greater Charlotte market and sees patients at Novant Health Orthopedics & Sports Medicine in Cotswold. He is board certified in family and sports medicine, and he has more than 13 years of health care leadership experience.
Before he joined Novant Health, he served as a U.S. Navy medical officer where he earned the Navy and Marine Corps Commendation Medal for meritorious service while deployed to Iraq in support of Operation Iraqi Freedom. He also served as an assistant team physician for the Carolina Hurricanes, and as the team physician for Lenoir-Rhyne University. He previously worked as director of the FryeCare Sports Medicine and Concussion Clinic in Hickory, North Carolina. Fennell received his doctor of osteopathic medicine degree from the Philadelphia College of Osteopathic Medicine in Philadelphia, Pennsylvania, and his Bachelor of Science in biological sciences from North Carolina State University in Raleigh. He also earned his Master of Business Administration from Auburn University.