Chief Operating Officer / Alternate Governor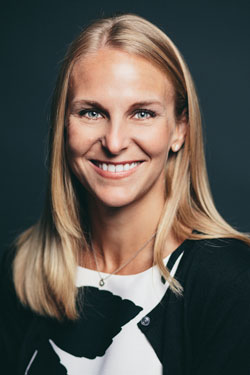 Black, who joined the Checkers as vice president in September 2006 and was promoted to chief operating officer in 2008, oversees the day-to-day business operations of the team with an emphasis on overall marketing strategy. She is also responsible for the integration of all areas of the team's efforts in public relations, community relations, game operations, sales and involvement with non-profit organizations. Black is also the alternate governor for the Checkers, is currently the only female COO in the American Hockey League and is the first and only woman to sit on the Executive Committee for the league's Board of Governors, which she later became the chair of in 2022. Following the Checkers' championship run in 2019, she became the first woman to have her name engraved on the Calder Cup since the trophy was first awarded in 1936.
While with the Checkers, Black led the team on its successful return home to a renovated Bojangles' Coliseum beginning with the 2015-16 season. For her work on that project and other team initiatives, she became the first woman to earn the James C. Hendy Award as the American Hockey League's Outstanding Executive since its inception in 1962. Also in 2016, SportsBusiness Journal named Black to its annual "Game Changers" program that recognizes the top female executives in the sports industry. In 2017, she was a recipient of the Charlotte Business Journal Women in Business Award, which honors 25 female business leaders in the Charlotte region who have made significant contributions to their occupations and communities over the previous year. Black currently sits on the Board of Trustees for Discovery Place and is co-chair of the Women Executives Orientation Committee.
Black also guided the Checkers on their move to the AHL for the 2010-11 season, during which the organization received its conference's Award of Excellence in Community Service – an achievement it again earned in 2013-14, 2014-15 and 2017-18. Under Black's leadership, the team has continued to enjoy success at the AHL level, as it ranked in the top 10 in AHL attendance for each of its first five seasons in the league. In 2019-20, she led the Checkers to a President's Trophy win as the AHL's Team of the Year.
During Black's tenure in the ECHL, she was the recipient of the Excellence in Marketing Award for three consecutive seasons with the San Diego Gulls and the Checkers. While working in media relations for the Gulls, where she eventually received the title of chief operating officer, she also won the ECHL's Media Relations Director of the Year Award. Black has also worked as head athletic trainer and director of hockey operations for the Sacramento River Rats of now-defunct Roller Hockey International and as the vice president of hockey operations for the North American Roller Hockey Championships.
Profile
| | |
| --- | --- |
| Hometown | Mammoth Lakes, California until 3rd Grade and then Grass Valley, CA until I left for SDSU |
| College/degree | Majored in Kinesiology at San Diego State University- Go Aztecs! |
| Favorite sports team | The Charlotte Checkers and AFC Richmond |
| Favorite hockey player of all time | James Black |
| What would your goal song be? | "I've Had the Time of My Life". Then I could point to my teammates and the fans when the song says "and I owe it all to youuuuuuu" |
| Do you have any pets? | Why yes, yes I do. I have two cats- Rick (Richard when he's bad) Cheeto, a bunny we rescued from the middle of Freedom Park named Sunny and a fish named Turtle. If I play my cards right, we will have several more to add to the list as time goes by |
| What did you want to be as a kid? | I wanted to be a flight attendant (back when flying was still fun), then at one point I wanted to run a chocolate factory like Willie Wonka's. I was super fond of the idea of flavored wallpaper. A little later in my childhood years I pivoted to wanting to be a vet |
| Favorite vacation spot | Harrison Lake, British Columbia |
| Hidden Talent | I have incredibly accurate spatial awareness. Leftovers are no match for me. Just by looking at whatever it is that needs to be stored, I can eyeball exactly the right container for it. It's magical |
| Favorite movie | Outsiders and Bridesmaids |
| Is a hot dog a sandwich? | Absolutely not |