The Checkers will wear throwback jerseys as part of their 90s Night, presented by Helacious, on Saturday, March 11.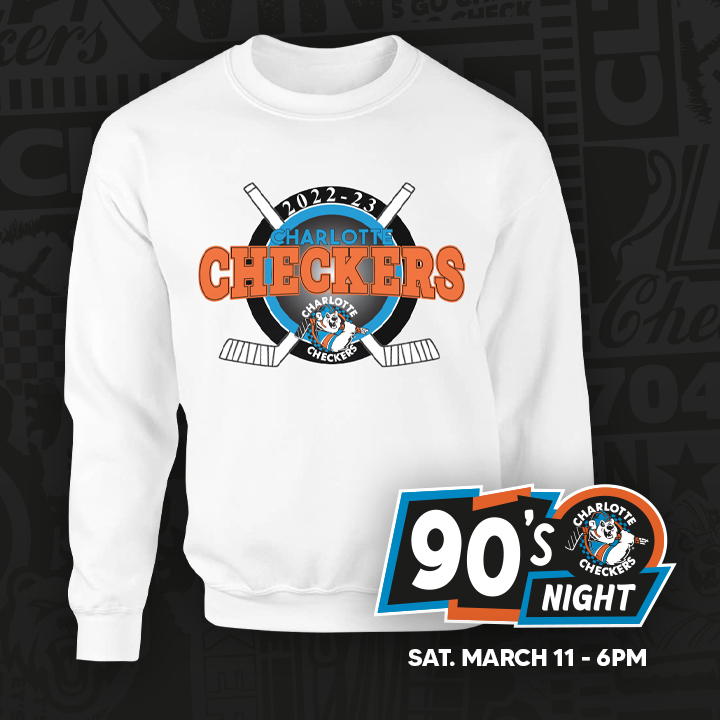 The jerseys, modeled after those that the team wore in the 90s, will be available in an online auction on game day and available for pickup immediately following. A portion of the proceeds will benefit the Humane Society of York County in addition to the Checkers Charitable Foundation.
The team is also offering a limited run of 90s-themed merchandise, including a crewneck sweater that can be purchased as part of a package that includes a game ticket for just $45 total. The sweaters will also be available at the team's merchandise stand while supplies last, as will a t-shirt featuring the same design, another t-shirt featuring the same 90s logo used on the jersey and other novelty items.
The evening will also include live music from 90s cover band Gump Fiction, who will play at the coliseum's front entrance at 5 p.m. and again in Bojangles Coliseum's Red Line Club restaurant following the game.
The game against the Bridgeport Islanders begins at 6 p.m, with doors opening one hour prior.