During the season, Checkers broadcaster Jason Shaya checks in each week with his 10 Thoughts - a series of observations about the team and the hockey world in general.
---
1.
Since 2011-12, Brody Sutter has been a staple of the Charlotte Checkers lineup. For all 211 of his Checkers games Brody made our team better every game. Brody will also be missed off the ice. Simply put, he's a terrific person and any team would be proud to have him represent their organization. Like his father Duane, he is a very smart hockey mind, which isn't shocking considering his last name. So, it was always fun to sit and talk to him about the game and hear his thoughts. I wish him nothing but the best of luck in the Florida organization. The Checkers' room will be feel strange without him.
2.
This is my 10th season of Charlotte Checkers hockey and I am very happy that once again the Checkers will be on ESPN 730. The games will stream right to your phone (and computer) and there is a link that will be available on the website and on TheAHL.com. The broadcast's pre-game show begins on Friday at 8:15 pm EST and Saturday at 7:45 pm EST as each broadcast begins 15 minutes before scheduled puck drop. Player and coach interviews as well as game highlights will be heard each and every game.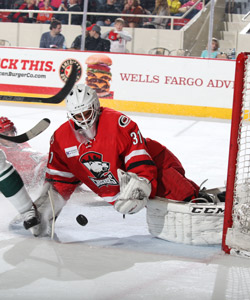 3.
Daniel Altshuller came into last season as the starting goalie for the Florida Everblades in the ECHL. By the time January rolled around, he was the MVP of the Checkers. Once again Altshuller is starting in the ECHL. But, we all know there is nothing predictable about a hockey season. Altshuller is in better shape and even more capable than last year. He'll prove it again during the 2016-17 season.
4.
As Pat Dwyer steps into the Checkers' roster, the team adds another veteran with a wealth of experience. Dwyer played 416 NHL games and is noted for his hard work and solid penalty killing. The last time he was in the AHL, which was 2009-10 for Albany, he was nearly a point-per-game player. This year, he started in camp with Columbus, so I'm assuming he's in game shape and perhaps could see action as early as this Friday's first game in Texas.
5.
Last we checked, Zach Boychuk, the Checkers' all-time leader in points, goals and games played is a free agent. You have to wonder how much longer he sits out before a team picks him up.
6.
With the Canes adding three players in the past few days, it seems clear that Carolina General Manager Ron Francis is determined to make sure his organization has the necessary depth at every position. The rigors of an NHL season necessitate every team rely on players well beyond the 23-man NHL roster. If a team has a lack of quality depth, then the NHL team will suffer. Also, these additions allow young players to progress in the AHL without stifling their development.
7.
Of all the players claimed off waivers, my prediction is that the gem was scooped up by Carolina. Martin Frk is a former second-round pick from Detroit and he was an absolute terror against Charlotte last season. He has a ridiculous shot and he has rounded his game off over the years while playing in Toledo and then Grand Rapids. If he continues his development, he will be a great asset to the Hurricanes.
8.
Ron MacLean is back as the host of Hockey Night In Canada, replacing the inexcusable hire of a man called George Stroumboulopoulos who was never the right person to host that legendary show. I grew up watching HNIC and Ron MacLean is pretty much an institution along with Don Cherry. It will be great to see the gravitas of McLean on display once again during Canada's most important hockey broadcast.
9.
Former Checkers defenseman Dan Biega is likely to retire from professional hockey. Danny was a tremendous AHL player and a steady force on the Checkers' blue line. His 2014-15 ascension to the NHL was done the right way-- by working as hard as possible. There's no question that whatever his next step in life is, he will be a success.
10.
Don't forget to tweet me (@jason_shaya) during games with questions or comments. I try to get everyone mentioned and make the game as interactive as possible. Our listenership has soared over the previous nine seasons and I hope we continue to deliver an exciting product each and every night. This is the year the will Checkers make it back to the postseason with head coach Ulf Samuelsson and we will be there to cover it all.