Owner / CEO / Governor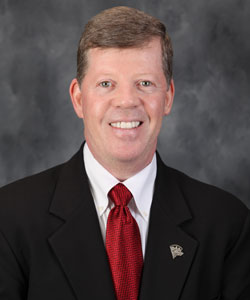 Dr. Michael Kahn has been one of Charlotte's leading silent philanthropists for several years. His heart is in helping the city's disadvantaged youth, which he has demonstrated by working with several organizations including Alexander's Children Center, Children's Miracle Network, Special Olympics and others that foster the belief that every child should have an opportunity to be the best they can be. He also serves on several boards including the Fletcher School, Darlington School and Hospitality House of Charlotte.
Since Kahn became the owner of the Checkers in 2006, the organization has helped several children and families in need, both directly and through charitable organizations, raising a total of over $4.8 million. Under his leadership, the Checkers captured their first Calder Cup championship in 2019 and the President's Award as the AHL's Team of the Year in 2019-20. The team also won the AHL's Excellence in Community Service award three times in their first five AHL seasons (2011, 2014 and 2015). In 2011, the Checkers' work with the family of a young fan named Zach Bennett was featured on ESPN's weekly investigative newsmagazine show E:60.
Along with his brother, David, Kahn is a third generation owner of Empire Distributors, Inc., a wholesale wine and spirits company located in Georgia, North Carolina and Tennessee. A die-hard Georgia Bulldog fan, he has supported many different ventures with the University of Georgia, including several scholarship endowments and facility upgrades. The university honored him by unveiling the Michael A. Kahn Family Gate at Sanford Stadium in 2006.
Profile
| | |
| --- | --- |
| Hometown | Atlanta, Georgia |
| College and major | University of Georgia - Business |
| As a kid, you dreamed of becoming: | Hard to remember that far back, however I'm sure it would have had something to do with hockey or football |
| Name one thing on your bucket list | Winning a second Calder Cup championship for the city of Charlotte |
| If you were an animal, what would you be? | I think that's obvious ... Bulldawg |
| First CD/tape | Led Zepplin 1 |
| Favorite food | Sashimi |
| Favorite movie | Stripes |
| Favorite pro/college sports team | Charlotte Checkers and Carolina Hurricanes / Georgia Bulldawgs |
| Favorite type of music | 70's – 80's Rock |
| Favorite band | Dire Straits |
| Favorite book | The Twelve Universal Laws of Success |
| Fun fact | Once climbed a light tower during a concert at Grant Field (where Georgia Tech plays) to get a better view of the stage. Foreigner was playing and needless to say the Atlanta Police Department didn't follow my reasoning for pulling this stunt (their words). |