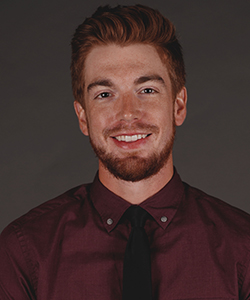 Director of Creative Services
[email protected]
Zac began his job with the Checkers during the summer of 2017. As director of creative services for the team, he is responsible for content creation as well as producing the show on the video board during Checkers home games.
He was born and raised in Northeastern Pennsylvania and fell in love with the sport of hockey while attending his first game in 1999 and dreamt of one day being a professional hockey player. When it became clear that the dream may not come to fruition, he found a way to blend his love for the game with his passion for media. In 2015 after graduating college and earning a degree in video production he accepted a job at a local television station that allowed him to work with the hockey team he grew up rooting for. In 2017 he accepted a position with the Charlotte Checkers and relocated to the Queen City which would quickly become home.
When he's not at the rink, Zac can be found around town enjoying the latest craft beer, at a show/record store or out and about with his dog, Dingo.
Profile
| | |
| --- | --- |
| Hometown | Trucksville, PA |
| College and major | University of Valley Forge - Video Production |
| Favorite sports team | Pittsburgh Penguins |
| First hockey game | 1999 Kentucky Thoroughblades vs. Wilkes-Barre/Scranton Penguins |
| If you could create a menu item for the Red Line Club, what would it be? | Hear me out, crab rangoons |
| Favorite memory with the Checkers | 5OT game (longest game in AHL history) |
| Would you rather fight 100 duck-sized horses or one horse-sized duck? | While punting 100 duck-sized horses sounds fun, I'll take my chances with the one horse-sized duck, thank you |