Now that we're affiliated with the Florida Panthers, we're going to spend the next several weeks introducing you to some of their prospects that could end up on the Checkers' roster at some point. Now up: Aleksi Heponiemi.
WHO IS HE?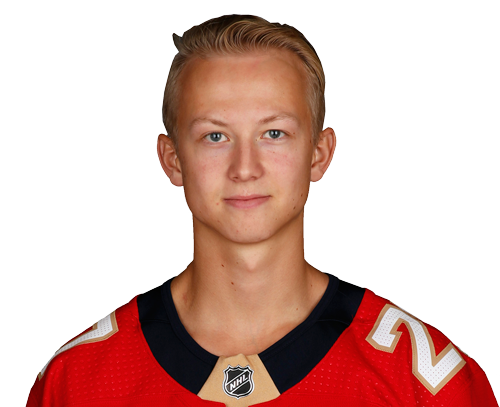 FULL BIO
Aleksi Heponiemi is a 21-year-old Finnish forward who is currently playing his third professional season. The Florida Panthers' second-round draft choice (40th overall) in 2017, he has posted impressive offensive numbers at several of his previous stops. Most notable among those are a 118-point campaign with Swift Current of the WHL in 2017-18 and the following season with Karpat of Finland's top division, where he led all league rookies with 46 points in 50 games.
At the 2019 World Junior Championship, he tied fellow Panthers prospect
Grigori Denisenko
for the tournament scoring lead with nine points in seven games to help Finland capture gold.
WHAT KIND OF PLAYER IS HE?
As diminutive in stature as you're likely to see in pro hockey – he is officially listed at 5-foot-10 and 147 pounds – he has the skill and vision to compensate, as evidenced by his gaudy point totals.
WHAT HAPPENED LAST SEASON?
As a rookie with the Panthers' previous AHL affiliate in Springfield, Heponiemi struggled to produce offensively for the first time in his career. At or near a point per game at all of his other stops, he posted just three goals and 11 assists in 49 games for the Thunderbirds.
WHAT DOES COACH GEORDIE KINNEAR SAY?
"He came in from scoring a lot wherever he's been before, and I don't think the American League gets enough credit for how tough of a league it is. Our league is very physical, especially our division, and there's an adjustment period, but I'm proud of the kid for sticking through it. He became a better hockey player near the end of the season, and he's a guy that is going to find a way to be successful at whatever level he plays at."
WHAT'S HE DOING NOW?
With North American hockey yet to start, Heponiemi is back in Europe with MoDo of Sweden's second division. His scoring has picked back up to its usual pace with a team-leading 14 points in 16 outings.
WHAT'S A FUN FACT ABOUT HIM?
He was named the Most Sportsmanlike Player for the entire Canadian Hockey League while playing junior for Swift Current in 2017-18.
CAN I SEE SOME HIGHLIGHTS?
Sure.
DID I MISS ANY OTHER PROFILES?
Maybe.