Now that we're affiliated with the Florida Panthers, we're going to spend the next several weeks introducing you to some of their prospects that could end up on the Checkers' roster at some point. Now up: Henrik Borgstrom.
WHO IS HE?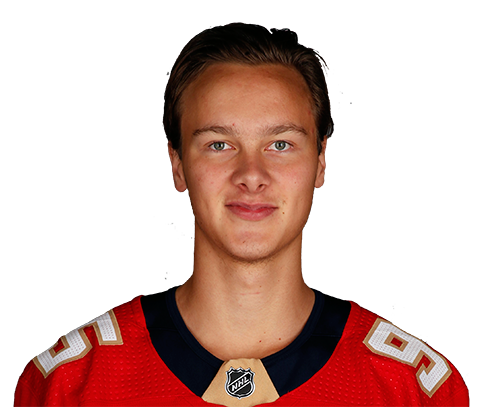 FULL BIO
Henrik Borgstom has been one of the Florida Panthers' top prospects since they drafted him in the first round, 23rd overall, in 2016. The native of Helsinki, Finland, went the U.S. college route and starred for two seasons at the University of Denver, where he was a Hobey Baker finalist, before turning pro two seasons ago. Since then, he's split time fairly evenly between the NHL and AHL, where he was selected to the All-Star Classic as a rookie in 2018-19.
WHAT KIND OF PLAYER IS HE?
An offensively skilled center with good size to boot (6-foot-3, 199 pounds), Borgstrom has also earned praise for his defensive awareness.
WHAT HAPPENED LAST SEASON?
On the heels of his All-Star rookie season that saw him come out of the gates firing with four points in his AHL debut and getting the call to spend the rest of the campaign in the NHL after just 24 games, Borgstrom's production took a hit last season. He started with Florida but played only four NHL games before spending the rest of the season in Springfield, where his scoring rate was roughly half of what it had been the year prior.
WHAT DOES COACH GEORDIE KINNEAR SAY?
"In his first year he was a dominant American Hockey League player at a point per game, and in that second year after being up all year, it's never easy to come back down. Like every young player, he's got to find the consistency and sustainability to do it on an everyday basis, but what a great hockey player he is when he's on his game.
"He's got great vision and makes people around him better. He's undercover competitive in his own way. He's a 200-foot player that had a down year last year a little bit, but he's got all the talent in the world to be a very good NHL player."
WHAT'S A FUN FACT ABOUT HIM?
He is a perfect 4-for-4 in AHL shootout attempts.
CAN I SEE SOME HIGHLIGHTS?
Sure.
DID I MISS ANY OTHER PROFILES?
Maybe.