Now that we're affiliated with the Florida Panthers, we're going to spend the next several weeks introducing you to some of their prospects that could end up on the Checkers' roster at some point. Now up: Rodrigo Abols.
---
WHO IS HE?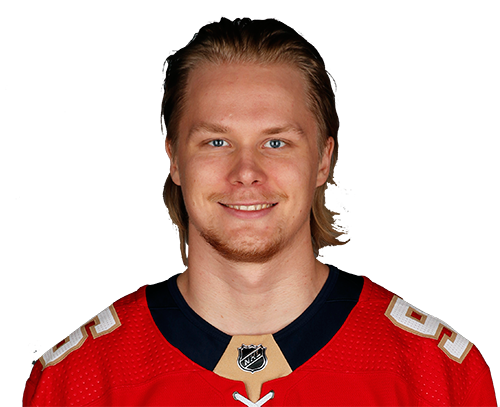 FULL BIO
Rodrigo Abols is a 24-year-old Latvian center who played his first North American season in 2019-20. Originally a seventh-round draft pick by Vancouver in 2016, he's entering the second of a two-year deal with the Florida Panthers.
Abols has gone back and forth between North America and Europe more than most, having played a handful of KHL games with his hometown Riga Dynamo as a junior-aged player before moving on to two different Canadian junior stops at opposite ends of the continent with WHL Portland and QMJHL Acadie-Bathurst. After spending two seasons playing pro in Sweden, including a 2018-19 campaign that saw him tie for fifth in league goal scoring, he signed his first NHL deal with Florida and made the jump back to North America last season.
WHAT KIND OF PLAYER IS HE?
Abols has been a scorer at every level. Listed at 6-foot-4 and 187 pounds, he adds plenty of size as well.
WHAT HAPPENED LAST SEASON?
He began the season with Springfield, albeit slowly, resulting in limited opportunities to crack the lineup and an assignment to ECHL Greenville in November. After posting four points in four games with the Swamp Rabbits, he rejoined the Thunderbirds a week later and spent the remainder of the season in the AHL.
When the calendar hit 2020, Abols' play really took off. He was the Thunderbirds' leading scorer from then on and ended the season with 18 points in his last 19 games. That run included an overtime goal in Charlotte on Feb. 15, when he tipped in a point shot while playing net front on the power play.
WHAT DOES COACH GEORDIE KINNEAR SAY?
"He was by far the most improved player we had last year. He came over to the smaller ice surface and there was a little bit of an adjustment period and he was in and out of the lineup, but by the end of the year, he figured out a way to be successful.
"He's a big, long centerman that won some big faceoffs near the end of the season. He scored some big goals and had a lot of positive impact. He learned and got better every single day and became a key contributor. He put up the points, but away from the puck he found an identity with being harder to play against. Aside from the numbers, in terms of compete level he was our most improved player."
WHAT'S HE DOING NOW?
As is the case with many European-based players, Abols has already begun his 2020-21 season. He's playing with his former club Orebro in the Swedish Hockey League, where he posted seven points (4g, 3a) in his first nine games. He's currently teammates with former Checkers defenseman Rasmus Rissanen.
WHAT'S A FUN FACT ABOUT HIM?
He's played in four World Championships for Latvia, a country that had only five active NHL players last season, and would be the first Latvian to play for the Checkers.
CAN I SEE SOME HIGHLIGHTS?
Sure.
DID I MISS ANY OTHER PROFILES?
Maybe.